For CHEVROLET or GMC with diesel engine of V6.6 the horse power decreased and you can see the following message on the dashboard:
"SERVICE EXHAUST FLUID SYSTEM"
"EXHAUST FLUID QUALITY POOR"
"EXHAUST FLUID EMPTY REFILL NOW"
"ENGINE POWER IS REDUCED"
also you can see Exhoust System and Check Engine flashing,these are the factors,that tell you that there are issues with these systems :AdBlue, DEF, DPF, EGR, Intake Manifold Flaps in your car.
Here are the examples that inform you about fault in these systems
We provide high-quality and highly-qualified repair of these systems as well as guarantee 100% full function of these systems in future.
We do DPF service regeneration.
Also removal or replacement and programming NOx sensors, adaptation of AdBlue-DEF and DPF systems, as well as other failures associated with AdBlue, DEF, DPF, EGR, Intake Manifold Flaps systems.
After repair we 100% guarantee that your engine will work differently:HP increase and there will be decrease in diesel used.
You will be pleased with your car.
There is an example of how the car works properly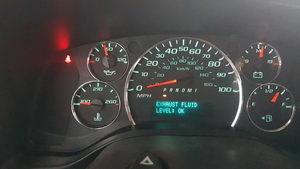 The services listed above are provided by the address:
LUXURY AUTOELECTRONIC
3035 Franks Road, Huntingdon Valley, PA, 19006.
WE are always ready to help you.
Our prices are honest and affordable for any customers.
For more information please call us at 215 960 5968